Upcoming Positive Play Training:
[event_board event_category="positive-play-training"]
To book your place on a Val Sabin Positive Play Training course please contact us on 01604 580974 or email: info@valsabinpublications.com
NB. Inset options are available for Positive Play Training.
---
Positive Play Training Course Objectives:
To reinforce the importance of the lunch-time supervisors' role.
To examine ways of organising the playground and identifying appropriate equipment.
To explore practical ideas for encouraging Positive Playgrounds in Primary schools.
To provide guidelines for encouraging Positive Play.
To be able to deliver a 2 hour course to lunchtime supervisors.
This is a one-day training course to enable trainers for individual schools, School Games Organisers or Trainers for Local Education Authorities to deliver training for lunchtime supervisors.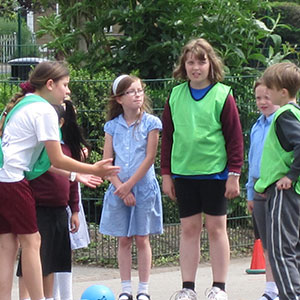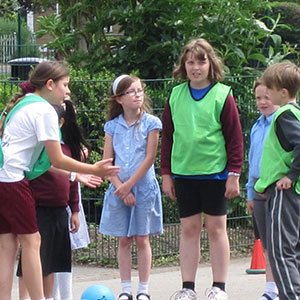 The course comprises the following elements:
The role of the lunch-time supervisor.
Providing for wet-weather lunchtimes.
Health and Safety issues.
Zoning the playground.
Playground markings.
Type and use of equipment.
Appropriate activities.
Strategies to enable play.
Organisation and delegation.
Communication.
Training and organisation of lunchtime "buddies".
Dealing with situations in the playground.
Competitions and fund-raising.
Together with a range of inter-active games-based, problem-solving and social activities.
Participants on the National course will receive a "Positive Play" training manual and they will also be licensed to deliver Val Sabin Positive Play courses in their school or Partnership of Schools and receive a detailed outline and structure of a 2-hour course for delivery to lunchtime supervisors.
Read about the Positive Play manual.
NB. We can also deliver individual half day courses as an inset for lunchtime supervisors.
We are available for advice on the design of the playground.
---