Val Sabin Action Kids Animals: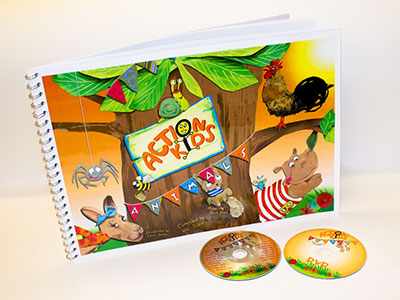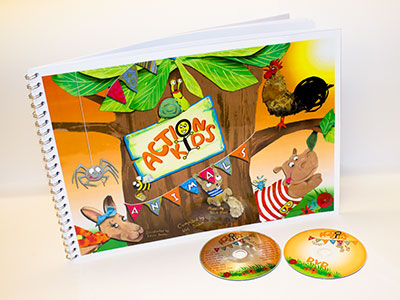 Action Kids Animals is a A3 bright and colourful, beautifully illustrated book with a CD of original music.
17 different animals are illustrated and children can sing along to the accompanying music and a DVD for children to copy the action.
Please contact us for prices and to place your order.
Action Kids Animals Sample Pages
View Action Kids Animals Sample Pages
Action Kids Training
Read about Action Kids Training
---
This multi-sensory programme promotes physical, emotional and language development using movement, song and rhyme. The beautiful, bright 3D illustrations will stimulate discussion and conversation. Combined with the bright and well-presented text, original songs and accompaying movements, the book makes for easy interaction whether you are with one child or a group of children. The DVD is rich in actions for each animal so you can switch from quiet discussion and singing to active, kinaesthetic learning and physical development.
Please contact us for prices and to place your order.
This will be a favourite with your children.
Bee Song
Chicken Song
Caterpillar Song
Crocodile Song
Cuckoo Song
Frog Song
Giraffe Song
Hippo Song
Kangaroo Song
Ladybird Song
Magpie Song
Monkey Song
Sheep Song
Snake Song
Spider Song
Squirrel Song
Snail Song
Compiled by Val Sabin, Illustrated by Edina Lloyd, graphics by Daniel Jeffery.
Music arranged and performed by Jacob Grant.
Price
£30.00
Please contact us to place your order.