Val Sabin Action Babies (Birth-12 Months):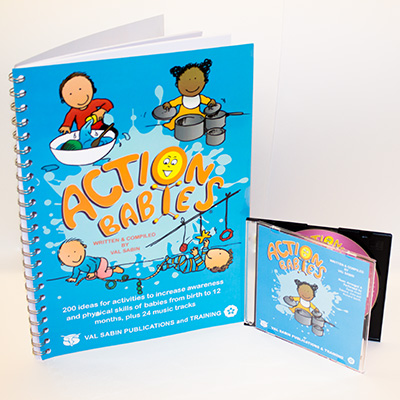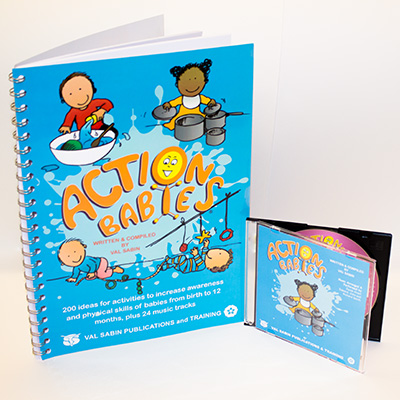 Action Babies (Birth-12 Months) book includes 100 ideas for babies from birth to 6 months old and 100 ideas for older babies from 6 months to 12 months old.
Please contact us for prices and to place your order.
Action Babies Sample Pages
View Action Babies Sample Pages
Action Kids Training
Read about Action Kids Training
---
Introduction to Action Babies
All babies have their own personality from the moment they are born, and each has his own unique developmental pathway.
Developmental milestones will be reached at different times and no two babies will develop in the same way at the same times.
Playing with your child or the child in your care will not only help them to develop physically, but also enhance their creativity and imagination and encourage flexible thinking.
You don't have to invest in expensive toys to play and connect or bond with your child or the child in your care-you can use everyday objects in different ways to create activities which are really stimulating and great fun to do.
The ideas and activities have been collected into groups, each with its own focus of:
gross motor skills;
fine motor skills;
hand-eye co-ordination;
vision development;
recognising and locating sounds and music.
However, it is also recognised that learning at this stage is holistic, so benefits for each activity will be much wider, both physically and creatively, and you can stimulate your baby's intelligence through the discovery of the body, the senses, and the surrounding world.
Try these ideas and have great fun with your baby as you help him to grow and develop his personality.
Price
£15.00 (Paperback)
Please contact us to place your order.