Val Sabin Positive Play Key Stage 1 and 2: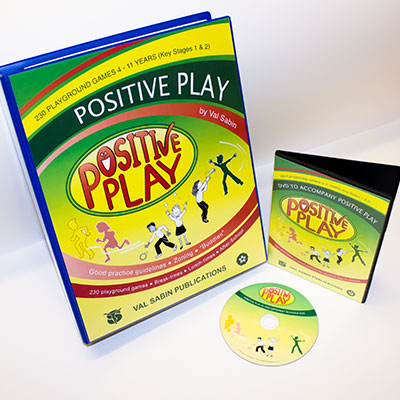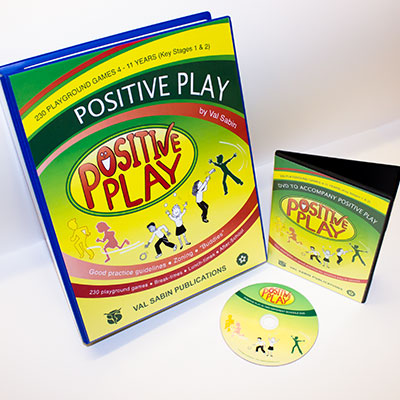 Comprehensive & user-friendly.
Detailed breakdown of how to analyse and develop the playground facilities.
Over 230 activities and games for lunchtimes and after school clubs.
Lunchtime supervisors guide.
Step-by-step guide to creating a "buddie" system.
This positive play key stage 1 and 2 manual for playground supervisors includes 230 outdoor and indoor games and strategies for dealing with the main issues occurring at break-times.
Please contact us for prices and to place your order.
Positive Play KS1 & KS2 Sample Pages
View Positive Play KS1 & KS2 Sample Pages
Positive Play Training
Read about Positive Play Training
---
Introduction to Positive Play (Key Stage 1 and 2)
Children can spend over 20% of their school day out of lessons and in the school grounds and this manual helps schools develop very positive playing environments by utilising grounds in the most creative, positive and cost effective ways.
Some creative thinking, good organisation and the redistribution of equipment can quickly transform the attitudes and activities in a playground without spending a lot of money.
This manual of activities is now being used for games playing in after-school clubs and covers the whole primary school age range.
Positive Playground Experience
Positive Play – providing positive playground experiences. Positive playgrounds can provide:
a bright, safe and stimulating environment
positive playing areas that help improve the health of children and encourage cognitive development
help develop skills of social interaction at all levels
help reduce the incidence of bullying and provide a safe "quiet" area
The introduction shows how to analyse the schools' present facilities and environment and how to develop them. Zoning the playground is explored along with detailed guidance on type, use and organisation of small equipment and the provision of a playground games box.
There are 230 outdoor and indoor games which are presented in a form which can be easily converted into cards for the game box.
The outdoor games section has several Sub-Divisions:
Problem solving and creative games and activities
Games and activities using small equipment
Games and activities using no small equipment
Challenges
Chasing games
Quiet games
Structured mini-games
parachute games
The games have been designed to suit a wide range of abilities and ages across the Primary School.
There are suggestions for over 50 indoor games activities for the dreaded wet lunch-hours! A complete "lunch-time Supervisors Guide" is included and there are a large number of ideas for playground markings and games.
Buddies System
The manual comes complete with a DVD illustrating how two different schools have implemented Positive Play in their playgrounds. It also highlights the 'buddies' system and how you can incorporate it into your school playground.
How can you create a positive and active playground without spending thousands of pounds? A wealth of possible answers and creative ideas can be found within this most comprehensive and user-friendly manual.
Positive Playground

The Introduction, identifies the reasons why it is important to promote a positive and active playground:
to improve children's health
to allow children to develop positive social skills and work out their own rules of behaviour
to help reduce the incidence of bullying
to provide a safer environment
…and recognise the importance of the informal curriculum and the role of the adult in encouraging and enabling play.
Schools are encouraged to walk around the boundaries of the school and playing areas to identify where improvements could be made and a detailed breakdown of how to create different "zones" for play also attacks the problem of football taking over the playground.
Many creative ideas are introduced to create and enhance the essential "quiet" area and there is a detailed section on the suitability of different types of small equipment and how to organise its storage and use.
Playground Environment
Creating an interesting environment does not necessarily mean children will become more active – they need to have games to play and the environment needs to be safe for the activity.
The major section of this manual is Section 2 and is devoted to presenting all the different, simple, health related, curriculum related, traditional and new games you could ever need in the playground.
The games are clearly presented – one game for each A4 page – in such a way that they can be photocopied and lamminated and be presented in a games box which can be taken out with the equipment each lunch-time and will serve as a reminder for those children who "don't know what to do!". The games are clearly sectioned into the following categories:
Positive PlayProblem solving and creative games and activities
Games and activities using small equipment
Games and activities without small equipment
Chasing games
Challenges
Quiet games
Structured mini-games and parachute games
…and suggestions are made for introducing and encouraging playground games. All together there are 175 games and activities for outdoor play.
The remaining 55 games and activities have been identified for indoors in Section 3 and have been designed specifically to cater for the dreaded "wet lunch-times" and "wet break-times". Within this section, guidelines are also given for the organisation and presentation of the indoor games.
Pupil Safety
Section four of the manual is a photocopyable information booklet – "The Lunch-time supervisors guide to Positive Play" which includes:
The safety and welfare of pupils
The lunch-time supervisors role
Raising the profile of lunchtime supervisors
Effective play needs a positive environment
Organising the play environment
Encouraging playground games
Wet weather! – indoors!
Encouraging positive behaviour
Retaining the children's respect
Steps for intervening in serious conflicts
The attributes of a lunch-time supervisor!
…and can also act as a guide for schools on how to raise the profile of lunch-time supervisors and update the organisation and imparting of information, also to increase the levels of communication between the Supervisors team and between supervisors and staff.
The final section is devoted to the identification of a wide range of playground markings.
If there is very little funding available, it is possible for schools to purchase playground paint and create their own markings, using ideas in the manual.
N.B. Most outdoor games can be played without the use of markings, however, if they can also be played on particular types of markings, or they need specific markings, they have been identified at the bottom of the card. this means that children can move to the right area for the game.
Tips for overcoming common problems
Throughout the manual there are several commonly asked questions or problems encountered by lunch-time supervisors, and a variety of tips are given to support ways of overcoming them e.g.
"The small apparatus we provided was quickly lost"
"Children didn't seem to know how to play games"
"Safety – how do I utilise the unseen corners"
"I dread wet lunch-times – children just don't know what to do with themselves"
Price
£80.00 (Hardback)
Please contact us to place your order.