'ActEi – Developing the Whole Child' written by Simon Olding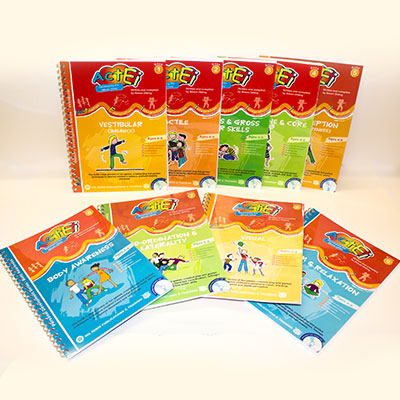 There are nine ActEi books available supporting the development of children from 4-9 years and all linked to the National Curriculum. Each book targets one of the following nine essential developmental areas:
Book 1: Vestibular (balance and posture)
Book 2: Tactile (self organisation)
Book 3: Reflexes (physical fluency)
Book 4: Muscle tone (strength and stamina)
Book 5: Proprioception (spatial awareness)
Book 6: Body Awareness (self awareness)
Book 7: Co-ordination (laterality)
Book 8: Vision (hand-eye co-ordination, reading)
Book 9: Calm and Reflection (stress release and positivity)
Please contact us for prices and to place your order.
ActEi Sample Pages
View ActEi Body Awareness Sample Pages
---
Introduction to ActEi
ActEi is a fun physical and neuro-developmental movement programme that uses traditional games, co-operative missions, creative movement, drama, imagination, visualisation and specialised movements, to help every child reach their potential – physically, socially, emotionally and in the classroom.
It is now being recognised by educational psychologists, physical and movement therapists that under-development or delayed development in any or a combination of these areas can lead to significant difficulties with learning, behaviour and the ability to perform skilled movements.
Teachers, therapists, SENCOs and educational psychologists are all reporting that an ever increasing number of children are exhibiting under development in a number of these areas giving rise to underachievement in age-related attainment levels in PE and in the classroom.
ActEi Aims
ActEi aims to stimulate and speed the natural development of these areas to enable children to achieve in PE, and in all other areas of the school curriculum.
The real joys of ActEi are the games and activities. Humorously illustrated and with simple instructions to call out. All you have to do is take the recommended cards from the lesson plan and enjoy delivering a fun packed session.
With each manual you have 96 cards. At the back of every card there are ideas and ways to make the games simpler and more challenging giving you over 300 possible activities!
Progressive from week to week, ActEi can be used as a whole school programme or specifically with a key stage, year group or class. The structured programme can be delivered depending on your available time using either the short 15 – 20 minute, or longer 30 – 45 minute lessons plans.
Suitable for special needs and mainstream school environments, with a flexible and innovative approach it can be easily delivered as part of regular PE sessions, or as sessions in breakfast and after school activity clubs.
Price
Each ActEi book is £22.50 each (Paperback)
Order a set of 5 and save £10.00 (£102.50)
Order a set of 9 and save £20.00 (£182.50)
Please contact us to place your order.